Unearthing Thread is an ongoing collective inquiry of the urban landscape. With a desire to unpack the normative narratives that govern urban dwellers' regard towards nature, this project began with an academic survey and psyhcogeographical exploration of Manhattan's environment. These investigations quickly veered towards the infrastructure networks that sustain it and the life forms they govern, such as the steam pipe network. I acquainted myself with artists, organisations and communities working in this context & took a deep dive into perspectives on space, urbanism and ecology that pull from the humanities and performance studies. There are three practical constituents that have resulted from this research and overlap with each other to frame my inquiry; a series of collective walks, the design and selection of props to support their execution and a digital archive of the documents resulting from them, that I am currently building at unearthed.zone


Research and work begun at ITP, NYU as a thesis project in 2019.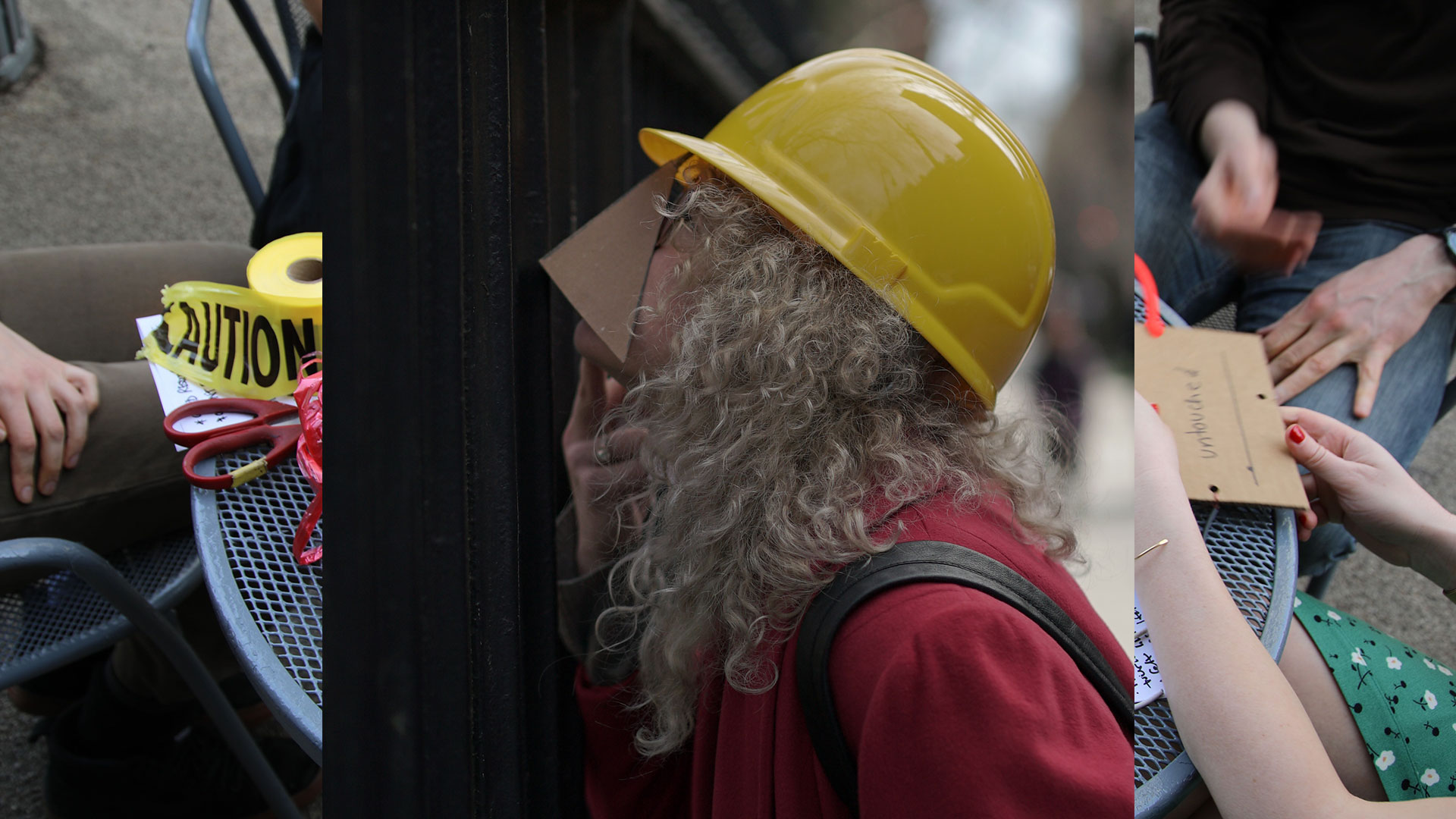 The Theory of the Dérive by Guy Debord
has informed solitary and collective walks, and the prompts for the data collected. Material elements of systems such as the steam network played as the "attractions of the terrain". The intention of these explorations has been to channel intimacy with the inanimate by changing the pace and rhythm with which onlookers or participants absorb places they have visited before, and the nonhuman or material agents that occupy them.
The props I chose changed over time. I employed the use of cardboard appendages evocative of body parts attached to safety hard hats, uniforms of dysfunctional and pointless safety equipment, and for the latest version, designed a series of props with cardboard and domestic items.
I sought different methods to engage participants in conversation; I attempted this via visual, diagrammatic means to materialise the 'emergence' of discourse, debate, and associations. I lead the conversation as a search for the relations between each participant's element by using tactile and physical materials. Cables, yarn, caution tape and the like were used to create assemblages of cardboard tokens with observational recordings connected via phsyical means.
"The power of diagram-making could be described as the skill of change and transformation by reason, and may be "cartographic,"4 "topologic,"5 or diagrammatic. Diagrammatic thinking is, however, not so much about the concrete shapes and forms of the geometrical configuration of knowledge represented as about the dynamic of how the structures of connectivity and separation—together with attentive abstractions and the relation of points of connectivity (territorialization) and disconnection (deterritorialization) and reconnection (reterritorialization)—are performed, evolve, and show forces of change.
"
[
http://monumenttotransformation.org/atlas-of-transformation/html/d/diagrammatic-thinking/diagrammatic-thinking-alexander-gerner.html
]